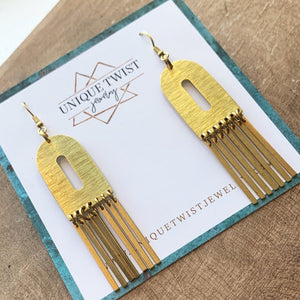 The Mae Earrings
The Mae Earrings 
In honor of actress Mae West.
Mae West was an American stage and film actress, playwright, screenwriter, singer, and sex symbol whose entertainment career spanned over seven decades. She was known for her breezy sexual independence, and her lighthearted bawdy double entendres, often delivered in a husky contralto voice.
Hand made brass earrings on a brass hook with a silicone back.