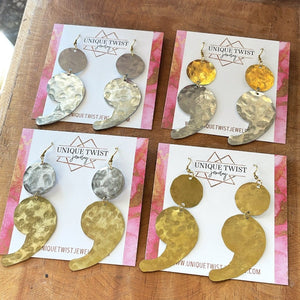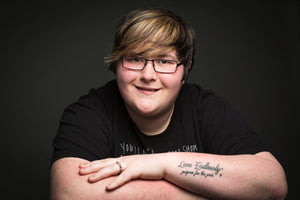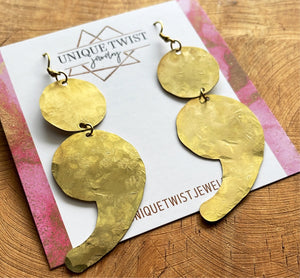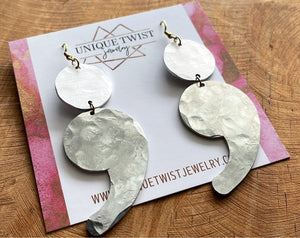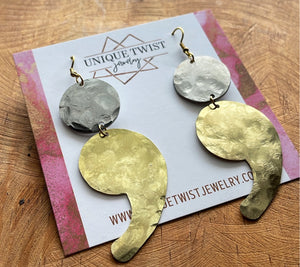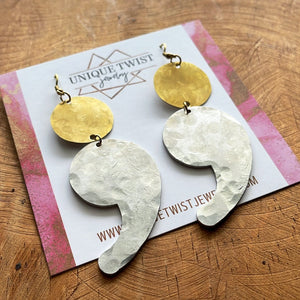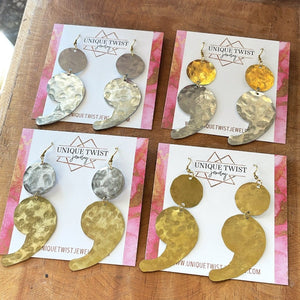 The Amy Earrings
These hand made earrings are named in honor of Amy Bleuel.
"Amy Bleuel, suicide survivor started semi colon movement. I vote give A->B her dues." -Mandy A
Mental health advocate Amy Bleuel(1985-2017), founder of Project Semicolon, a leader in the movement to raise awareness and eradicate stigma around mental health issues.  In April 2013, Bleuel took to social media with an idea. Anyone who had ever struggled with a mental illness would draw a semicolon on their wrist and post a photo. Amy Bleuel wanted to honor her father's passing, after he died due to suicide. She settled on a potent symbol to help express the hope when a life is saved — the semicolon. It is a symbol of the perseverance that comes from grappling with mental illness.
-Psych Central & Washington Post
A portion of the proceeds of each set of earrings will be donated to Project Semicolon.
Hand stamped Brass and Aluminum earrings on a brass hook with a silicone back. Approximately 3" in length.